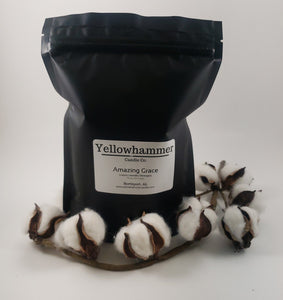 Enjoy our scents in a NEW 19 oz. Laundry detergent and wear some of our favorite scents every day. Pick the scent of your choice. Use 1-2 tablespoons depending on size and soil of garments to be washed. Safe for HE washers 
Amazing Grace - An elegant and romantic fragrance with top notes of green and fresh citrus, middle notes of jasmine and lily, and bottom notes of woody musk & earthy amber. Inspired by Bridgewater Candle. 
Blue Volcano - This lovely fragrance is a clean, fresh scent with top notes of tropical fruits and woodland greens, middle notes of jasmine, and bottom notes of raspberries. Inspired by Capri Blue.
Mahogany & Teakwood - Top notes of green citrus and fruit are paired with the sweet florals of jasmine, rose and lily, anchored by sweet woody base notes. Inspired by Bath & Body Works.

Sweet Cotton - Fresh clean scent with green apple, hints of orange and pineapple, on a dry down of musk.