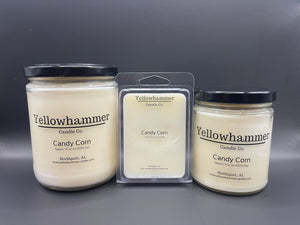 Candy Corn - Creamy sweet vanilla with a light buttery top note.
Our candles are made with 100% soy wax, offered in our classic original look. They are available in two sizes. The 9 oz offers 60-80 hours of burn time, while the 16 oz offers 100-120 hours of burn time.
Candle care – 
You can extend your candles burn time by burning the candles long enough to allow the wax pool to reach the edge.  If you do not allow them to burn all the way to the edge of the container when you first burn them, they will begin to tunnel down into the wax instead of melting all the way to the edge.  The candle vessel is fragile and may become hot when in use.  Do not handle hot jar.  If flame smokes, extinguish, let cool, trim wick and relight.
Keep wick trimmed to ¼"
Burn candle within sight at all times
Keep out of the reach of children and pets
Never burn a candle on or near anything that can catch fire
Remove all packaging before burning
Place on temperature safe surface to avoid heat damage
Keep away from drafts
Keep wax pool free of debris
Do not burn candle for more than 4 hours at a time
Discontinue use when ½" of wax remains
Do not use water or any other liquid to extinguish the candle
Note:  Some candles may turn yellow due to a reaction from UV light.  This does not affect the quality of the candle only the appearance.